Making a mappack for Mari0, a puzzle for Ortho Robot, or making your own game, and don't know how to create, upload, and post screenshots? Then this is the thread for you! This method is compatible on all PCs: Windows, Mac, and Linux.
Other methods of taking screenshots
Step 1
First, open the game you would like to take a screenshot of.
After that, find something in the game you want to take a screenshot of, such as the title screen, a level, or something different.
Step 2
Once you've found something to take a screenshot of, find the PrntScrn button on your keyboard. It is typically somewhere in the top right of your keyboard.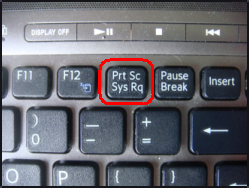 Special thanks to MyCytosine for images
For Windows, if you want to capture the open window, then press PrntScrn+ALT. If you want to capture the entire screen, just press PrntScrn by itself.
If you're on a Mac, then the best way to take a screenshot is with
Command+Shift+4
and hit
Spacebar
.
On a Mac, the image will actually be saved to your desktop, and you wont have to paste it into a photo editor.
Thanks to Dav999 for pointing this out.
You can see other methods of taking a screenshot on a Mac here.
http://www.wikihow.com/Take-a-Screenshot-in-Mac-OS-X
Step 3
After you have taken your screenshot, you'll need to paste the screenshot into a photo editor, such as MS Paint, GIMP, Paint.Net, etc. Once you've done that, you can edit the screenshot from there if you'd like to.
When you're finished, just save the image, preferably as a .PNG file, which doesn't lose quality unlike .jpg and .jpeg files.
If you don't want to edit the image, and just want to upload the image very quickly, Imgur allows uploading from the clipboard (what you've just copied). Just press the upload button on the site, and press CTRL+V on your keyboard. I don't know if this is possible on a Mac, however.

Step 4
Now that you have the image of your screenshot, you will need to upload it to a file sharing site, such as the following:
Imgur
Dropbox
Mediafire
Photobucket
*Insert more sites here*
After you have upload the file, copy the IMG code. Most photo sharing sites like Imgur and Photobucket will display it after you've upload the image.
It should look something like this:
Code: Select all
http://i.imgur.com/image-name-code-here.png
You will need to copy that address to post your screenshot.
Step 5
Now that you have uploaded your screenshot, you are ready to post it.
Just paste the image URL that you copied, and then highlight it, and press the "Img" button above your post creator/editor. It looks like this:
Now just press Submit, and you've done it! You have successfully posted a screenshot to the Stabyourself.net Forums!
Other methods of taking screenshots
There is a app for everything they say, and so that of course means that there are other methods for taking screenshots. Here are a few.
Puush
This is a program that allows you to upload images right from your desktop! It is compatible with Windows and Mac.
Special thanks to Jorichi for recommending this.
If you have any problems with this, feel free to PM me or post a reply here.
I hope this helped!