With this Topic i would like to give my ideas for the Final Battle planned in the next version of this awesome game, also other things the creator might be interested.
StoryMode
Before jumping into the Final Battle, i want to suggest a "Story Mode" for the game, in which it explains why the Mario universe and the Portal Universe are together, here its a very simple idea of the Story Mode:
"Mario was in a adventure to save princess peach (like always) but when he gets to bowser's castle he doesn't find anyone, except a tube which leads to the underground facility known as Aperture Science, as Mario walks through the strange place he finds out that bowser was brainwashed by GLaDOS, which is attempting to take over the mushroom kingdom and his people to have more Test Subjects to test, so then Mario must go through the Test chambers and various other places to reach the evil Machine and take her down"
its a basic idea.
The Final Battle

Ok so now we get to the Real purpose of this topic, The Final Battle, i will present my idea with pictures and i will explain what to do in order to defeat the Boss
1º Boss: Bowser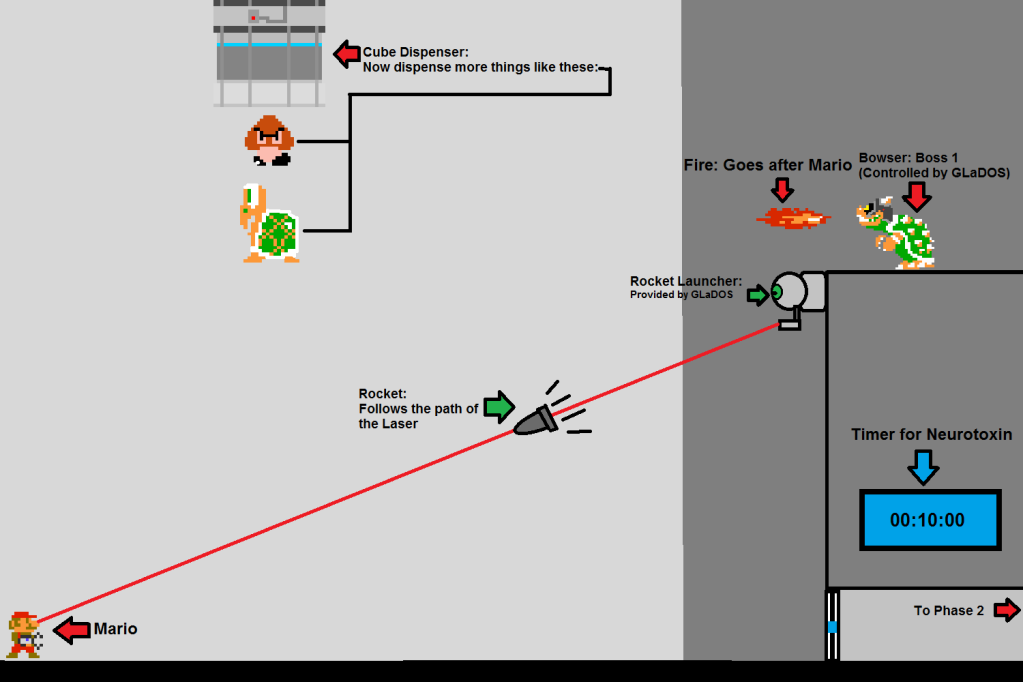 You enter a room and the fight begins, Bowser its stading in the top of a platform so mario can't reach him, he is guarding the way to GLaDOS and the only way to get to her is killing him.
GLaDOS gives many weapons to bowser, first the Rocket Launcher who appeared in the first portal game, and a dispenser which throws enemies like goombas (and in rare cases koopas, you'll see why it needs to be rare in a second) so they can attack mario, also bowser shoots fire which follows mario's location.
How to beat the Boss:
Redirect the Rocket with the portals so it can hit bowser (IN DAH FACE) he can avoid the attacks by jumping (Like in the original mario game) after you hit him with a rocket, he gets angry at you and shoots more fire at a faster rate. After hit him 3 times the fight its over, and bowser hides under his shell, you will need to portal yourself to the platform he was standing, and push the shell so it destroys the door leading to GLaDOS's chamber.
(PD: Another way to beat him is to wait until the dispenser fires a Koopa, then hit the koopa and redirect his shell to bowser, this way its much easier cause its a 1 hit kill, but the koopa appears in EXTREME RARE ocations)
2º Boss: GLaDOS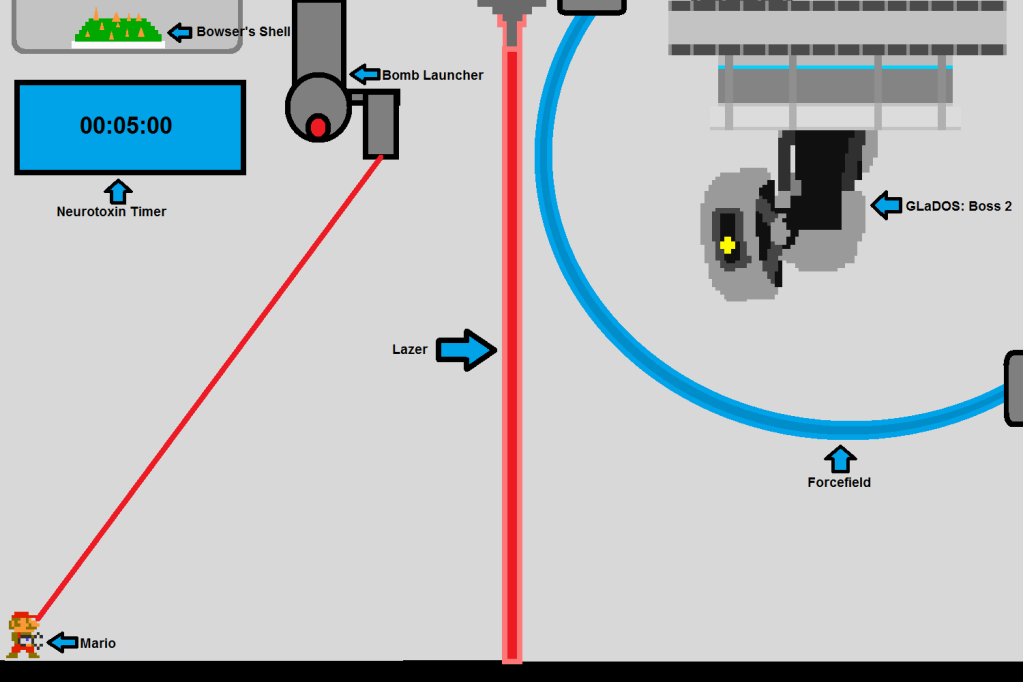 GLaDOS' Sprite created by: Yamino
So this is it, you have collected all those coins, you killed all those enemies, you solved all those puzzles and beat bowser to get to this final fight between you and the queen of machines, she has a Forcefield to protect herself, she uses the laser to make your job harder, and to kill you she throws bombs at you with the bomb launcher, it all seems lost when suddently you realize that Bowser's shell its the only key to defeat her. how?
How to beat the Boss:
You need to be very careful and show your portal skills perfectly for this fight, not only the bombs and the laser will be pain in you 8-bit butt, but the shell you are using to take down GLaDOS also kills you, so how to use it?, you will need to redirect the shell so it hits the forcefield, you will need to do this 3 times (note here, the forcefield changes colors when you hit it, first its blue, then yellow, and finally red) when you do this it will break, leaving GLaDOS weak, when this happens you will have little time to redirect the bombs to her, to lead the enough damage. Then the Forcefields will be up again, repeat this process 2 more times and you will beat GLaDOS!
The Ending
After doing this, you will go to the next room and find peach, you free her and both of you go out, THE END.

Before i end this post i would like to point out that if the creator of this game wants to implement my idea, i will be so happy, also you dont have to implement ALL step by step, you can modify everything you want.

Thanks for Watching and leave a comment about the idea down below.