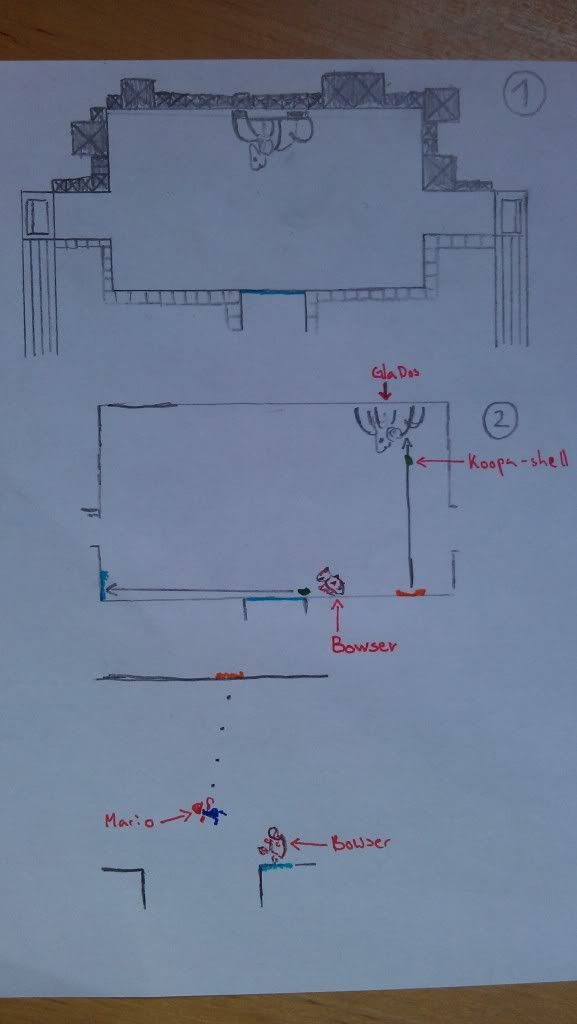 Edit:
So before i go into detail, ill give you a short version of my idea to prevent you guys from leaving without having read anything For the design of the stage check out the pic in my second post.
The Basic Story is that you come into the last chamber and find glados, but instead of having to fight Glados alone you have to team up with the other test subject (bowser). After you killed glados, bowser pushes you into the hole in the middle of the room but you manage to take him with you. You both fall down into the final room where the epic mari0 Vs. Bowser fight will take place.
Still interested? Here comes the long version:
So, here is my idea, you come out of the elevator on the left and enter the room. Glados, is hanging from the ceiling in the middle of the room. In the middle of the floor there is a light bridge above a hole. You cant throw portals at anything higher than the elevators. You have a short dialog with glados and she tells you that she is going to kill you. But before you die you should meet the other test subject.
Bowser/bowser junior steps out of the elevator on the right and enters the room. Mari0 and Bowser decide to work together and defeat glados. Glados can move from left to right on the ceiling. Glados follows you and then stops to charge and fire a lazer at your position. Glados cant be hurt by her own lazers. Bowser gives you koopa shells, which have to be launched at Glados with via portals.
When Glados is destroyed, the light bridge is destroyed too.
Mari0 stands in front of the hole and talks to bowser.
Then bowser suddenly pushes him, and mario is flying/falling into the hole. Time slows down and you have to throw two portals in a way so bowser falls into the hole too.
If you mastered that challenge you and bowser fall down that whole for 3-5 seconds and land in a place where the true bossfight takes place. A fight between you and bowser. I havent thougt of a good mario-bowser fight yet. Any help is welcome.