Since I got remotely no assistance in the Mari0 modding sub-forums, I decided to try again in the proper thread, as suggested by another user.
You see, I am having trouble running a simple graphic and music mod that I've adjusted to my tastes, working from a pre-extracted version of the game that came as a .zip. The only folders I ever touched were the "graphics" and "sounds" folders, as they have the content I wanted to change. Afterwards I compressed the src folder into a zip, changed the file extension to .love, made darn well sure I didn't touch/leave out the main.lua file, and tried running it, only to get this error message.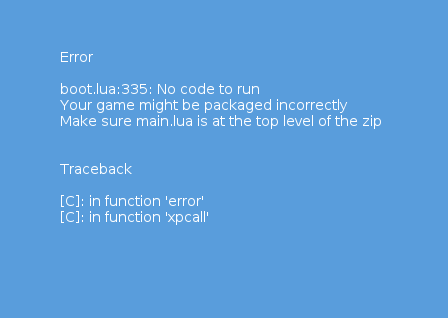 Afterwards, I downloaded the Mari0 source, and simply copied only the modded content into the download while removing the original versions of the modded files, Compressed, changed to .love, still no luck. Then I tried the same routine with modded versions of the game, nada.
I also tried reducing the file sizes of some of the modded files by changing the color mode of the sprite files to index format, and reduced the quality of the large over world music. And big suprise, no avail.
And so I wanted to go on the forums and see if anyone could be of assistance and find out what's wrong with my mod.
http://www.mediafire.com/?52ozcocbb3h5r20